Bob 'Idea Man' Hooey Articles in print
Bob has the privilege of seeing sharing his "Ideas At Work!" in publications around the world. He has been a columnist and regular contributor for many years. He seen his ideas in print and on-line in consumer, corporate, association, and trade publications. He shares his acquired wisdom and experience to make a leveraged difference in the world.
Bookmark this page: We will add links and/or pdfs of his articles as we find them or he adds new ones to the list.
Bob's Ideas At Work! have been successfully applied by thousands of leading edge professionals around the world. Visit ebusinessSuccess.biz for additional articles.
---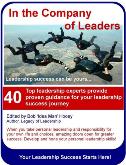 Bob finished a book - In the Company of Leaders with 40 top leadership experts and best selling authors. We'd like you to be able to get one for your own personal leadership growth and success.
Purchase your personal, 'printable' copy of our e-publication, In the Company of Leaders- special price of only $20 (Cdn) plus GST (e-book's introductory price is $32.95). Follow link (above) to gain access this amazing new leadership publication.
---



Last fall (2006) Bob was asked to contribute articles for the Canadian Manager publication for the next four issues. The Canadian Institute of Management has 17 branches across Canada with a National Office in Barrie, Ontario. Since its inception in 1942, the Institute has helped over 55,000 managers develop a broadly based education in management skills. They are dedicated to enahncing managerial skills and professional development.

Here are the two articles included in their 2006 Winter publication.
Here are examples of Bob's articles on-line or in print:
---
on Twitter

Connect on Facebook

Connect on LinkedIn

Bob's YouTube Channel
---
Contact us:
Contact us by: Email

Creative Offices: 780-736-0009

Client Toll Free: Canada & USA: 1-888-848-8407
---
| Home | Contact Us | Idea-rich services | Inspirational keynotes | Innovative programs | Success articles | Success tools and resources | Coaching | Just for meeting planners | Clients and testimonials | Expect more! | About Bob 'Idea Man' Hooey | FAQ | Media | Dedication | Toastmasters | Disclaimer/Privacy/CASL | Engage Bob |
---
http://www.ideaman.net (a division of Creativity Corner Inc.) Contact Canadian motivational, leadership, business and association keynote conference speaker, sales success, and inspirational corporate trainer, Bob 'Idea Man™' Hooey today, for your next sales team, employee training or motivational leadership event, retreat, executive briefing, or conference. Bob brings his innovative ideas to create the success you've only dreamed of. Check out Bob's version of Robert's Rules.
---
Copyright © 1998-2018 Bob 'Idea Man™' Hooey, CKDE, A/S, Edmonton, Alberta -based, Canadian motivational keynote conference, sales, leadership, and idea-rich inspirational business success speaker. All Rights Reserved. Text, graphics, and HTML code are protected by Canadian, US and International Copyright Laws, and may not be copied (except for client evaluations), reprinted, published, translated, hosted, or otherwise distributed by any means without explicit permission. | Disclaimer/Privacy/CASL