Professional coaching services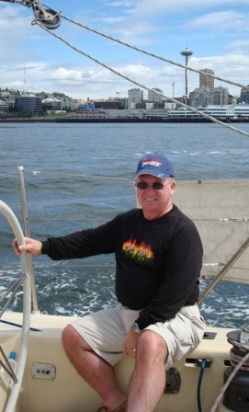 Coach Bob undersail -Seattle, Wash
Bob offers leadership success coaching/mentoring on-line, on-site, on-the-phone, or on-the-run for flexibility in assisting his clients. He can work with you individually or corporately to define and reach your goals.
Isn't your success and the success of your leadership, team, or organization worth the investment?
Professional athletes have known for years, the value of a good coach/mentor in enhancing their performance for maximum effectiveness. 21st Century business leaders are finding that selectively using a professional coach makes both dollars and sense. Bob offers coaching and mentoring in selective areas by client request. He can help you clarify and achieve your goals and dreams! Call him today! 1-888-848-8407
Whether you are:
Looking to enhance your leadership, career, or income
Dreaming about starting your own business
Entering the start up stage of entrepreneurship or business development
Working on a new business or promotional project
Writing a book and want to pubish it
Looking to enhance your speaking skills
Expanding your operations or process
Looking to add more innovation and creativity to your product, process, or mix
Working with your team to profitably move them to the next level
Pulling together a group of volunteers for a pet or career critical project
Having a professional coach or mentor can help. Bob will be a value-added partner and idea-rich leadership resource in your success and the success of the teams you lead. He personally mines his Ideas At Work! from a wealth of 29 plus years of rich experience in leadership, small business and entrepreneurship, sales and marketing, corporate and association leadership and management.
Contact Bob directly if you need leadership coaching, mentoring, or success training in any of these areas: bob@ideaman.net or call 1-888-848-8407 (Client Toll Free – North America) Office: 1-780-736-0009
---
Our goal is to equip and motivate your business leadership and their teams to profitably succeed, grow, and win!
• Learn how to recruit and build a winning team.
• Earn increased respect and support from superiors, peers, and subordinates.
• Accomplish their team mission 'AND' take care of their people.
• Discover their strengths and weaknesses as a leader with growth in mind.
• Establish what a winning leader should be, know, and how to act.
• Raise confidence in their individual skills and abilities.
• Strategically set and achieve realistic, yet challenging goals.
• Hone ability to effectively handle time and resources.
• Inspire and motivate those around them.
• Profitably grow in skills, character, body, and spirit.

Call 1-888-848-8407 (Client Toll Free North America) to explore how to engage Bob 'Idea Man' Hooey and put his innovative Ideas At Work for your team. Canadian office: 1-736-0009
---
Bob offers the following professional coaching, mentoring, and consulting services
---
Presentation Skills and Executive Speech Success Coaching
"Without doubt, I have gained immeasurable self-assurance. Bob, your patience and your encouragement has been much appreciated. I strongly recommend your course to anyone looking for self-improvement and professional development."
Jeannie Mura, Human Resources, Chevron Canada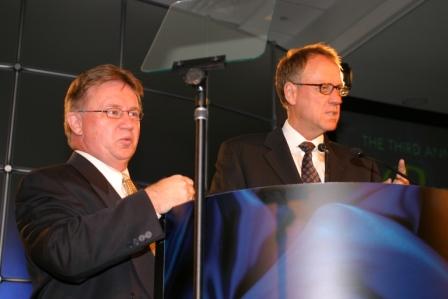 Bob and former Brick President and CEO, Kim Yost at a special awards event for 2004 Canadian Retailer of the Year, Bill Comrie
He has been engaged to work with national and provincial, production and technical crews in staging and supervising prestigious award programs such as the Canadian Retailer of the Year (2004) and the World Entrepreneur of the Year (2005).
He has also created and delivered Train the Trainer Programs on hosting an effective Video Conference for Edmonton based, The Business Link.
As an internationally aclaimed, award winning speaker, Bob has executive clients asking for his help in crafting, polishing, and staging important presentations including creation of a/v and video introductions. Bob has had the privilege of working with leading edge people from companies including The Brick, Chevron Canada, TD/Canada Trust, Bank of Montreal, Canadian Blood Services.
Bob 'Idea Man' Hooey has been engaged by leading edge executives from Canada's 50 Best Managed Companies on major presentations they were making; in two cases, creating an opening video and the creative Power Point slide shows to illustrate and support their presentations.
Bob was engaged by Intuit Canada to train and coach 30 of their top people prior to a successful new national product launch in 2004.
"I have been so excited working with Bob Hooey, as he has given inspiration and motivation to our leadership team members. Both at the Brick Warehouse – Alberta and here at Art Van Furniture – Michigan; with his years of experience in working with business executives and his humorous and delightful packaging of his material, he makes learning with Bob a real joy. But most importantly, anyone who comes in contact with his material is the better for it."
Kim Yost, CEO Art Van Furniture, former CEO The Brick
Perhaps you just need a hand or a few coaching tips to:

Fine tune and polish a major presentation
Refocus or revise a sales or marketing presentation
Create a presentation or training program
Prepare for a sales, marketing, or job interviews
Script or stage a presentation
Host or script a Video Conference or Web-cast
"Bob 'Idea Man' Hooey is an exceptional speaker and facilitator who helps businesses and organizations grow profit and create effective teams. This leadership and sales expert has written nearly a dozen books, travels the globe speaking to managers, corporations, and non-profits, increasing morale as well as profits. Bob is a leader within the speaking industry and is beloved by his peers for his mentorship, warmth and high skill. I highly recommend Bob as a speaker. He'll be the one your employees and conference attendees talk about." Shawne Duperon,PhD, CEO, ShawneTV (3-time Emmy award winner and 2016 Nobel Prize nominee)

Back to Top
---
Executive Training and Business Success Coaching and Mentoring
"Bob is one of those rare individuals who knows how to tackle obstacles in life to reach his dreams. He takes each as a learning experience and stretches for more. His compassion and genuine interest in others make him an excellent coach."
Cindy Kindret, Training Manager, Comptroller, Silk FM Radio
Personal and professional productivity
Expanding your personal worth through value added professionalism
Networking for fun and profit - there is a better way!
Recruiting and developing your own success team - Who, How, and most importanly, Why?
Setting and achieving your personal and professional goals
Achieving your personal best on the job
Finding time and achieving balance - myth or magic?
Developing powerful presentation skills - number one way to enhance your career!
Unleash the seven secrets of effective leadership
Hone and enhance your leadership skills and power
For example: Bob invested 4 months (fall 2003) creating and conducting a leadership development series for one of Canada's 50 Best Managed Companies, to help its 22 VP's raise their awareness of reaching 'plus' billion dollars in retail sales. The following year (2004), they met and surpassed this retail sales goal.
---
Business Success and Team Development Coaching
"Just a note to say thanks so much for running our recent seminar for employees on strategic planning. Everyone still talks about how much help it was to all of us. The wealth of information you gave us in the handbook was a great help also, and something we couldn't have done on our own."
Chuck and Joan Guild, Uni-Pro Printing & Graphic Design
Strategic planning and action plan creation
Employee motivation and training
Priority management and productivity training
Customer service development
Creativity and problem solving training
Powerful presentation skills - the essence of career advancement.
Creating and maintaining your productivity through enhanced team efforts.
Supervisory training and coaching techniques
---
Small Business Success /Start Up/Entrepreneurship Coaching
Bob has gained valuable, idea rich, insights into what people need to know about themselves and their business in order to succeed. His clients are able to successfully move from concept to creation and commercialization with their ideas. Ideas At Work!
"Bob's coaching has been very instrumental in the development of my business. Bob has valuable insights into what people need to know about themselves and their business. He not only offers innovative and practical ideas for proposals, brochures and pamphlets; but he edits and fine-tunes them once written. There is the added advantage that I can send written work to Bob and he will edit it through e-mail. I would recommend Bob to anyone setting up or developing a small business."
Pamela Windsor, B.A. Psych., Serenity Counseling Services
Business plan development - secret to long term success!
Developing your advisory team - success teams work!
Resources and support networks - where do you go for help?
Powerful presentation skills - tell it and sell it!
Failure proofing your new business - is there really a secret?
Should I incorporate? What structure is best for your new venture? Although not a lawyer, Bob can give you some direction in this area.
Finding the funds you need to get your dream off the ground.
Recruiting and training people to help you achieve your dream.
---
General Business Success Coaching
"Attention Training Providers: I want to take this opportunity to let you know that Bob 'Idea Man' Hooey has utilized his talents, energy and considerable public speaking experience to provide communications clinics for our BC Works! clients. They have been very successful... reporting dramatically increased confidence and self-esteem! In addition to being a highly skilled facilitator, Bob has shown himself to be a great team player with a comfortable manner and a great sense of humor."
Vicki Austad, Manager, New Westminster Community Skills Centre President Consortium of BC Community Skills Centers (1997-1999)
Developing a productive public relations campaign.
The Power of Personal PR - getting your message out.
Developing an effective training plan and making it work!
Developing an effective team - secrets of success teams!
Maximized meetings - how to get the most out of them.
Resource and referrals to allied coaches and business experts.
Powerful presentation skills - Present like a PRO!
Selling skills for non-sales people
Supervisory training and coaching techniques
Secrets to Unleashing your 'Business' potential
---
Bob has written numerous idea-rich books and publications to inform, challenge, and inspire his readers and audiences. Many of Bob's top training programs are supported in print. Many of these are required reading for Bob's coaching clients and form the foundation for shared success as they work together. Make sure you ask about volume discounts for publications to reinforce your team's time with Bob 'Idea Man' Hooey.
Bob's most popular idea-rich leadership - business leaders' development series (Click on book to view)
Often the secret of significant, long-term success is in the recruitment and application of the three C's - Coaches, Cheerleaders and Champions. Wouldn't you like someone in your corner who has a wealth of experience, the ability to lead by example, the willingness to serve, and the courage to confront and challenge you to set and help you achieve realistic goals? Bob 'Idea Man' Hooey can be that Leadership Success Coach, Cheerleader and Champion! Contact him today! 1-888-848-8407
---
"Bob 'Idea Man' Hooey is a mentor to many and has done great things for CAPS Edmonton. Bob has also provided me with innovative ideas to help grow my business. His commitment to CAPS, the speaking profession, and professional speakers is admirable! It is a pleasure to recommend Bob."
Charmaine Hammond, Hammond International (3 time best selling author)
---
on Twitter

Connect on Facebook

Connect on LinkedIn

Bob's YouTube Channel
---
Contact us:
Contact us by: Email

Creative Offices: 780-736-0009

Client Toll Free: Canada & USA: 1-888-848-8407