About Bob...
Bob works with leading edge business owners and independent professionals who want to profitably enhance their leadership and careers, as well as organizations that want to remain competitive and profitable, to motivate, educate, and empower their staff, improve client acquisition, increase sales, and become more profitable.

Thousands of leaders and professionals across North America and the globe have been successfully applying Bob's idea-rich, creative, practical, and 'profitable' Ideas At Work! over the past sixteen plus years.

Bob 'Idea Man' Hooey is an inspirational, confident, results based leader, motivational keynote speaker, sales success coach, corporate success trainer, strategic business coach, facilitator, and award winning author.

He is international speaker on personal leadership, sales success, employee motivation, applied creativity, business innovation, and enhanced personal performance. Busy man! Productive man!

Creating captivating stories personally mined from 29 plus years rich experience, Bob challenges his audiences and readers to engage his Ideas At Work! He motives them to act on what they hear with clear, easily understood success building blocks, results-based leadership, sales, and career development and success, innovative ideas as well as proven leadership development, sales success, and career enhancement techniques.


Bob 'Idea Man' Hooey

Bob's conversational, humorous, inspirational, professional, and sometimes provocative leadership and keynote style continues to motivate, inspire, and challenge his audiences and readership across North America and the globe.

Bob is passionate about seeing people succeed and applied learning and brings this passion to every stage, classroom or boardroom environment.
Bob has earned international recognition as an inspirational best selling author, award winning speaker, sales and innovative corporate success trainer. His innovative presentations and Ideas At Work! have taken him to across the globe. Bob leads, motivates, and inspires his audiences to productively stretch and leverage their personal effectiveness and to hone specific idea rich sales, career, and leadership skills critical to succeed personally and professionally.
Bob is committed to your growth and excellence, not your comfort. To get to the winner's zone, we must move outside our comfort zone. His provocative ideas will challenge the way you think and inspire the way you act! He will challenge you to grow and to win. Canadian business, sales, and leadership success author, Bob 'Idea Man' Hooey has earned a solid reputation for going the extra mile in crafting and tailoring his idea rich leadership, business, and career development books, e-books, instructional guide and workbooks, and innovative companion educational learning materials, and Business Enhancement Success Tools for his clients and audiences around the world. As the author of 30 plus books, ebooks, and pocket wisdom books, Bob knows what he is talking about and has honed his ability to communicate it in a humorous, engaging, and challenging style.
Bob is a frequent contributor and columnist on sales, motivational teamwork, leadership, innovation, presentation and communication skills, and success, seen in North American consumer, corporate intra-net, association, trade journals, and on-line e-zines, including the CanadaOne, and the Acushet/Titleist companies. His innovative, motivational Ideas At Work! success articles and publications have been read and successfully applied by thousands of leaders, entrepreneurs, and professionals across the world.
---

Bob 'Idea Man' Hooey, DTM, PDG, Accredited Speaker

In August of 1998, Toastmasters International recognized Bob "for his professionalism and outstanding achievements in public speaking" in Palm Desert, CA. Distinguished Toastmaster, Bob 'Idea Man' Hooey became the 48th person in their history, and only the 5th Canadian to earn this professional level designation as an Accredited Speaker." 2016, there are now 7 in Canada and only 67 worldwide.

Bob served with distinction in District 21. He was District Governor (1997-98) for BC's 3500 plus Toastmasters. Bob has been inducted into the Toastmasters International Hall of fame for his speaking and his leadership contributions on several occasions.

He remains an active Toastmaster, speaking at District and Toastmasters conferences across North America and more recently in Australia.

Clip of Bob being inducted into the Toastmasters International ®Hall of Fame in 1998

"Accredited Speakers possess professional caliber speaking skills and are able to attract and hold the attention of any audience. The expertise needed to speak professionally makes becoming an Accredited Speaker an elite accomplishment. Fewer than 20 percent of all applicants have earned the designation of Accredited Speaker since theprogram began in 1981."
---
A while back I was invited to speak to 3200 Edmonton, AB Grade 3 to 7 students at an anti-bullying rally hosted by a local sports team.

I have to admit this was, at least I thought, my most challenging audience. I struggled with what to say and what to share with them. This was an important topic and one I was intimately acquainted with from my own elementary school days. My wife said, "You speak all around the world, why are you nervous?" My response, "This is really important to them and to their on-going time in school and the real world. I don't want to screw it up!"

I finally decided to speak to my 'younger self' and let them listen in... their response blew me away and I walked away inspired and humbled at the same time.

Here is the clip of that presentation... perhaps it will give you a glimpse into who I am and what I can bring to your leaders and their teams. Click on link to view that presentation: http://youtu.be/tvrHPYLv39Y Or view below.
---
Bob is a founding, charter member of the Canadian Association of Professional Speakers and the Global Speakers Federation. Bob is also the co-founder and a Past President of the Vancouver (BC) Chapter - Canadian Association of Professional Speakers (CAPS) as well as an honorary member of the CAPS-Sask (founding) and CAPS-Atlantic chapters. He served as President of the CAPS Edmonton Chapter in 2012.
At the CAPS National conference, in December 2000, Bob was given a special CAPS National President's Award "for his energetic contribution to the advancement of CAPS and his living example of the power of one." In November 2011, he was honored as the 2011 Spirit of CAPS recipient at the CAPS National convention in Toronto. This is the highest award given in the Canadian Speaking Industry.
In 1999, he became the first Canadian to attend CAMP NSA, opening the door for successive Chapter and National leaders to follow and experience this amazing leadership training. In 2000, Bob was elected to the CAPS National Board, serving two years as a National Director. He was honored for his dedicated national leadership service in 2002. He served for two years on the NSA Chapter Leadership Council and recently finished his 5th year as a Trustee of the CAPS Foundation where he raised several hundred thousands and helped move the Foundation into a funded, active role.
He is currently an active leader and past President (2012) of the CAPS Edmonton Chapter and a member of NSA-Arizona Chapter. He served for two years on the NSA (National Speakers Association) Chapter Leadership Council assisting NSA chapter leaders in their quest to serve their members. He served as Trustee for the CAPS Foundation and organized and hosted 5 years of fund raising events. He also served on several NSA convention and workshop committees, as well as doing this for CAPS conventions over the years. He has presented to all 10 of our CAPS chapters and is starting to present to NSA.
---
Big Dreams... small steps

Author pictured here preparing to enjoy a well deserved meal after a 3000 foot vertical climb to the top of a mountain in BC.

Award winning kitchen designer Bob 'Idea Man' Hooey, CKD-Emeritus (retired), was one of less than 75 Canadian kitchen designers to earn this prestigious Certification by the National Kitchen and Bath Association. Bob continued to serve as an NKBA teaching professional, and authored "How to Remodel Your Kitchen & Stay Married!" to help his remodeling clients. He got his start in training doing showroom seminars sharing tips on how to get the best design and kitchen for your budget. This led to his evolution into speaking full time.

He has been honored by the United Nations Association and received the CANADA 125 award for his ongoing leadership contributions to the community. Bob has been inducted into the Toastmasters International Hall of Fame on numerous occasions for his leadership contributions. He has been recognized by both the National Speakers Association and the Canadian Association of Professional Speakers for his leadership contributions.
---
Bob has written numerous idea-rich books and publications to inform, challenge, and inspire his readers and audiences. Many of Bob's top training programs are supported in print. Make sure you ask about volume discounts for publications to reinforce your team's time with Bob 'Idea Man' Hooey. Visit www.SuccessPublications.ca to order or for more information.
---
Bob believes each day is an adventure to be lived and explored. He brings that passion to everything he encounters and to each client.
In August of 1988, Bob joined 3 other men to help sail a 65 foot gaff-rigged, steel-hulled schooner from Honolulu to Kobe, Japan, (29 days) barely surviving a "baby" typhoon en route. The storm hit a day off the coast of Japan and they were blown well off course, experienced a laydown and barely survived.
3 long and harrowing days later they safely sailed into the Kobe/Osaka harbour.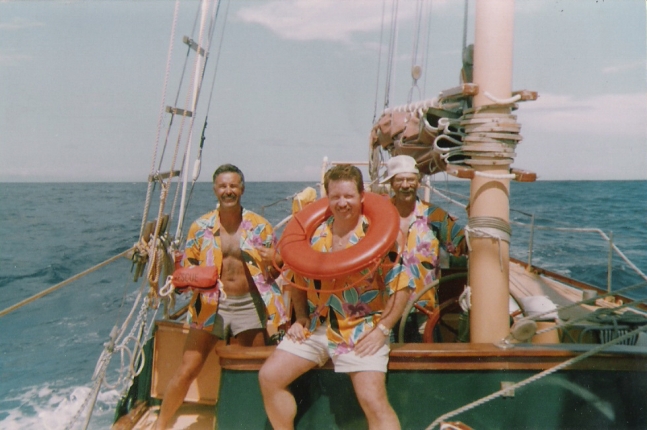 Picture shows the crew crossing the International Date Line.
This adventure survival story is shared in Bob's 'Rising Above the storm!' Keynote

---
In October of 2008 I married my long-time friend, confident, web designer, proof reader and the love of my life. Irene Gaudet and I had met originally at my sister's wedding some 30 plus years earlier and reconnected in 2003 at another wedding anniversary within the family.

I had recently moved back to Alberta following the death of my folks in 1999, as my only family lived in St. Albert. We got talking about what we did and I mentioned my speaking and my websites and that my designer was in Victoria. She said, "I do websites, maybe I could help you with yours?" Hmmmm!

We started spending time together working on my websites and other projects and then we started dating. Eventually our affection grew into love and I bravely screwed up my courage to ask her to marry me on a cruise from Vancouver to LA. We got married in Las Vegas on the way home and she has been my help-mate, encourager, and sometimes butt-kicker ever since. She has been inspirational in helping me develop my new websites and writing projects.

She is now retired and working in her web design and publications coaching role full time. That means she will be able to travel with me as I accept engagements across North America and around the globe. Please keep that in mind should you decide to engage me. I might be more inclined to say yes if it is a place 'we' would like to visit like I did for Cape Town, South Africa next April 17-19th, 2015. Visit her website at: www.vitrakcreative.com
Professional Affiliations and Service
National Director - Canadian Association of Professional Speakers (2000-2002)
Trustee - CAPS National Foundation (2008-2013)
President - Vancouver, BC Chapter - Canadian Association of Professional Speakers (served for 1999 as well as 2000)
President 2012 - Edmonton, AB Chapter - Canadian Association of Professional Speakers
Member NSA Chapter Leadership Council (2009 - 2012)
CAPS National Editorial Board - (2007- 2010)
Membership Director CAPS – Edmonton Chapter (2003-2004)
Program Director CAPS - Edmonton Chapter (2011)
Co-founder – CAPS Vancouver Chapter (1997) Served on the board until 2002, when he moved to Alberta and joined CAPS Edmonton.
Honorary founding member – CAPS Sask. Chapter (2001 - current)
Honorary member - CAPS Atlantic Halifax (2005 - current)
Professional Member – CAPS Edmonton Chapter (2002 – current)
Charter Professional Member - Canadian Association of Professional Speakers (1997 - current)
Professional Member - National Speakers Association - Arizona Chapter (2007 - current)
National Member – Canadian Society for Training and Development (2003 – 2007)
Charter Professional Member - International Federation for Professional Speakers (1997 - current) Now called the Global Speakers Federation.
Professional Societies Member - National Kitchen and Bath Association (1993 - 2002) CKD-Emeritus status (retired 2002)
Member and twice Distinguished Toastmaster - Toastmasters International (1991 - current)
Toastmasters International Brand Ambassador (2011-current)
Toastmasters International Learning Master (2013 - current)
Toastmasters International - professional level Accredited Speaker (1998 - current)
District 21 Governor - (BC) Toastmasters International (1997-1998)
Vice President - Micro Enterprise Association of BC (1997-1999)
Vice President - New Westminster Community Development Society (1994-1999)
Member - Burnaby Board of Trade (1999 - 2001)
Member - Edmonton Chamber of Commerce (2006-2009)
Edmonton Tourism Partner (2012 - current)
D42 Executive Leadership Coach (2003- 2008)
---
Bob and BK (Big Kat) working together at the Edmonton Home Show April 18, 1970

Wrestling with a tough decision as to who to engage to help your leaders and their teams?

Protect your conference investment - leverage your training dollars. Engage, educate and equip your team to profitably grow and win.

Call now to explore how to put Bob 'Idea Man' Hooey and his innovative Ideas At Work for your company, convention, or association event.

Email or call Bob today! 1-780-736-0009
---
on Twitter

Connect on Facebook

Connect on LinkedIn

Bob's YouTube Channel
---
Contact us:
Contact us by: Email

Creative Offices: 780-736-0009

Client Toll Free: Canada & USA: 1-888-848-8407