Just for my Toastmasters family and my fellow leaders
"I have had the pleasure of hearing and watching Bob 'Idea Man' Hooey deliver a keynote speech several years ago when he gave a presentation at a Toastmasters International convention. Bob impressed me greatly with his professionalism, energy, and ability to connect with his audience while giving them value. I heartily recommend this talented speaker and 'Idea Farmer' to all who want to move to the next level."
Dr. Dilip Abayasekara, DTM, AS, Past International President, Toastmasters International
To book me for your next Toastmasters conference or event
I joined Toastmasters, in April of 1991, to enhance and polish my skills, and to further pursue my dream of becoming a motivational business, leadership, and association conference keynote speaker. I had been doing leadership and continuing education training and was moving into corporate training and coaching. I wanted to dust off this long buried dream of being a motivational keynote speaker and inspirational, engaging trainer and to build some solid foundations for my long-term success in this expanding and competitive field.
In Toastmasters, I found a supportive group of people who believed in me more than I believed in myself at times… my Toastmasters' family. This support team (which extended throughout several regions in North America and Australia) provided the inspiration and encouragement for me to move my motivational keynote speaking and training skills to the next level. I owe them and my extended Toastmasters family a debt of gratitude that will never be fully repaid. But I am trying!
On an extremely hot day in August of 1998, I walked across the world stage at our Palm Desert Toastmasters International Convention to become the 48th person world-wide to earn the coveted professional level Accredited Speaker designation… being recognized for my professionalism in public speaking and being inducted into our Toastmasters International Hall of Fame. Becoming the 5th Canadian to do so as well - Wow!
To date (2017) there have been 75 speakers accredited by Toastmasters International. I am privileged to represent Toastmasters in this capacity.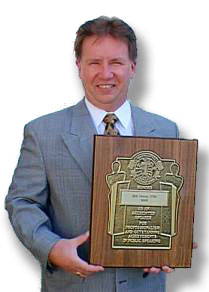 Distinguished Toastmaster, Bob 'Idea Man' Hooey, AS
Past District 21 Governor (British Columbia, Canada)
Bob was also the D42 Executive Leadership Coach for five years.



In 1991, Bob was inducted into the TI Hall of Fame as the 48th Toastmasters International Accredited Speaker in the world.
Over the years, I've had the privilege of sharing my Ideas At Work! with hundreds of North American Toastmasters clubs. In addition, I've had the privilege of delivering motivational keynotes and inspirational, challenging, interactive breakouts at numerous District and Regional conferences (when we still had Regional's). Speaking to Toastmasters is my give back for the investment of so many who helped me launch this career, grow, and succeed.

This video outlines the 3 essential elements of what you need to know to present well.


Leadership is lifting a persons vision and performance to a greater height and skills to their maximum.

Learning from the masters who speak for a living. Apply their lessons to present better.

---
How to get me there?
Very simple - just give me a call or email to ask me! If I am available, I would be pleased to design and deliver a motivational keynote at your Toastmasters District conference or other special event. I can also provide breakouts or additional leadership training for your District team. Keep in mind my speaking calendar does fill with corporate or association engagements, so check my availability early.
How much do I charge?
I have 'never' charged a fee for any Toastmasters, CAPS or NSA speaking engagement or appearance. Speakers are not allowed to charge for Toastmasters events. My motivational keynotes, educational and concurrent sessions at Toastmasters, CAPS and NSA events are my give back to three wonderful groups of people who invested in my growth and success.
I am pleased to support these 3 groups, whose encouragement has allowed me to build a productive, inspirational keynote speaking and leadership mentoring/coaching career that has taken me to 39 countries on 4 continents, so far. This is my way of saying thanks to the thousands of people who have helped me succeed in my dream to be come a professional speaker and travel the world. www.HaveMouthWillTravel.com
I am pleased to donate my time and expertise, even though I regularly charge between $5000-$8500 for similar motivation keynotes at corporate or association engagements.
I do, however, need to have my hotel, meals and basic travel expenses covered by your team. Over the years I've seen some creative ways used to offset these expenses without using District funds or member's dues. Note: TI allows you to reimburse for travel and hotel and allows you to do fund raising to cover these expenses. One of my fellow Accredited Speakers shared this with me. That makes it even easier for us to spend time together.
What can I do for you?
Schedule permitting I am there to serve you and our fellow Toastmasters.
I can arrange to come in early and do a pre-convention or meeting workshop to help raise funds.
In addition to my keynote, I am pleased to do breakout sessions. For example, this April 2013, I worked with the D86 team to do 4 programs over their weekend convention (I did a session for the 1st timers Friday night, an opening general session on leadership Friday night, a presentation skills general session on Sat in addition to being their closing keynote on Sunday.) And, I was pleased to help them.
I am pleased to sit on a panel and/or do a question and answer session on professional speaking or the Accredited Speakers program.
I am pleased to help hand out awards during the event.
I have done club visits and met with corporate leaders in support of starting a club in their organization.
I have done media interviews while in town and in advance of my on-site work.
I have done book signings at the District book store.
I have done special breakfast or lunch meetings with sponsors as a part of their supporting Toastmasters International.
I would be pleased to explore the numerous ways we can work together to best use my time investment and support you. Give me a call: 1-888-848-8407 (toll free North America)
---
Here are three ideas that I have seen successfully work on numerous occasions and used myself when I was program chair for a District, CAPS/NSA event, or when I served as LGET, and later as District Governor for District 21(BC):
1) Recruit a sponsor(s) who agrees to cover my travel and/or hotel expenses, in full or part, in exchange for promotion and publicity at your conference or event. I always acknowledge this contribution from the platform, and in my learning guides, to add visible value to their support. Perhaps your meeting facility would comp my room in exchange for additional promotion and acknowledgement.
I am open to doing other things to facilitate their appreciation as well. Over the years I have given signed copies of my books, met with them and their teams on-site and given them the use of some of my articles for their team use. For example, Titleist used 6 of my sales articles when they set up their intranet for their North American sales staff a few years back.
You can offer a series of sponsorship packages with various dollar values and give backs to the sponsor. eg: Silver, Gold, Platinum. We do that with our CAPS conventions and it helps generate significant monies to offset out costs. You can also have sponsors for individual breakout sessions (including mine), coffee and snack sponsors, specific meal sponsors, printing sponsors, and other sponsors to offset specific costs of running your event or convention. Hint: Start with your corporate based clubs and ask your leadership team who they know in the business sector and community.
There are many ways to enhance this value to a potential sponsor: Inclusion in your printed and on-line programs with live links to their web sites; acknowledgment in my learning guide (handout); banner or signage on-site or in the room; allowing them to insert brochures in your participant's conference bags; or inclusion on your conference website. Drop me an e-mail for additional sponsorship ideas.
In 2004, I had the privilege of being Program and Education Chair for D42's Fall Conference along with my friend Dave Rodwell, DTM. I worked with Jamie Hayward, DTM who brilliantly led our dynamic sponsorship team. They were able to secure over $10,000 in real $ponsorship $upport to fund our conference. This allowed us to bring in several out-of-town professional motivational keynoters and top level educational speakers, including my friend and mentor, Golden Gavel Winner, Peter Legge, CSP, CPAE, HoF and Linda Edgecombe, CSP, HoF. In each case we were able to cover their travel, hotel and conference registrations. They of course, donated their time and fees.
I've had some of my association clients do this successfully too. For example, I spoke for the Connecticut Association of Realtors in December (2004) and was sponsored by United Parcel Service. OK Tire brought me into Cancun (2006) and NAPA sponsored my session for them. Sponsorship works very well!
2) Help secure a corporate or association client for me to address either prior to the event or immediately following it. Put me in touch with a client who agrees to engage me a day before or following your event. I will then be able to cover my travel expenses from their fees and speak at your conference at no cost (with the possible exception of an additional hotel night or two). Hint: Start with your corporate based clubs and ask your leadership team who they know in business.
I've done this several times including speaking in Omaha, NB and having a DG drive up to take me down to The Amana's to speak at their conference. I was able to do this for the Alaska/Yukon Council a few years back. I spoke in Whitehorse courtesy of the Yukon Government and arranged to stay over to speak at their fall conference later on the weekend.
Visit my programs page for more details on the types of motivational keynotes and inspirational training programs I provide for my corporate or association clients. Perhaps a local business would agree to bring me in for their team?
Download my pdf speaker's information brochure and send that along to a potential sponsor. I'd be happy to talk directly with a potential sponsor, if you would arrange the connection.
I'd be pleased to create something from this list for your Toastmasters' event. I'm sure there are other creative funding options out there, so don't be afraid to suggest an alternative. These are two I've seen work successfully.
What it comes down to is this: If you can get me there, give me a decent place to sleep and feed me J… I'm pleased to visit and share my Ideas At Work! with your Toastmasters membership.
Your team will get thousands of dollars of my expertise, time and experience at no charge. If the timing is right I would love to meet with your leadership team and share a few ideas as well. I served as the D42 leadership coach and trainer for 5 years. I retired after my 5th year as I wanted them to allow someone else to step up to the plate.
3) Additional fundraising ideas
Perhaps we can arrange to do a pre-convention workshop as a split fee fundraiser. I have done this successfully around the world and would be pleased to explore this concept with you. This can be marketed to the local business community as well as Toastmasters coming to the event. We successfully do this at our NSA and CAPS conventions yearly.
Perhaps you can have a silent auction during your event. Ask Toastmasters from around your District to donate items. I'd be happy to contribute as well.
Do a raffle for something special. Make sure you check with your host facility as some of them do not allow this type of fundraising on site.
Do 50/50 draws during the convention or event.
Over the years, I've had the privilege of sharing my Ideas At Work! with hundreds of North American, South African, and Australian Toastmasters clubs. In addition, I've had the privilege of delivering motivational keynotes and inspirational, challenging, interactive breakouts at numerous District and Regional conferences (when we still had Regional's). Speaking to Toastmasters is my give back for the investment of so many who helped me launch this career, grow, and succeed.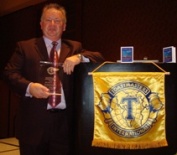 Bob pictured here following his keynote for the 2008 International convention.

World Champions David Brooks and Mark Brown celebrating with Bob 'Idea Man' Hooey as he became the 48th Accredited Speaker in the world.
I was (June 2005) the opening keynote speaker at the Region IV Conference in Saskatoon, SK. Conference Chair, Ken Tanner, PDG, PID arranged for me to speak 18 months in advance. Now, that's planning!
I shared the platform with my friend, coach, and personal champion, David Brooks (1990 World Champion of Public Speaking). I did the opening motivational keynote presentation and David delivered the closing keynote.
We were able to play off each other to make it more fun. It was so nice to work with someone who has invested in my life and career and to publicly acknowledge David's contribution. David was one of my champions and coached me in my quest for the Accredited Speaker designation. We were both sponsored to be able to be there and share our thoughts, tips and techniques … and a laugh or two with our Toastmaster friends and family.
Some examples: I spoke for D60 in November (2005) and D19 in the spring (2006). In the case of D19, one of their members used air miles to get me to Sioux City, Iowa.
I've spoken in quite a few Districts over the years and in April of 2012 I did a program in Perth, Western Australia for the newly formed D17.
I did a program for the Cape Town, SA D74 Toastmasters this past April (2015) while keynoting the PSA SA convention and another in D42 a day after my return. When travelling, I frequently connect with local Toastmasters leaders to see if I can assist them in their efforts to serve their members.
Perhaps, I will get the privilege of visiting with your District event in the next year or two.
Drop me a line: bob@ideaman.net
Sadly, I had the privilege of being the opening speaker for the last Region IV conference in Winnipeg (2009). But it was nice to be asked to help close out this chapter in our Toastmasters experience.
Bob 'Idea Man' Hooey
PDG, DTM, Accredited Speaker
---
on Twitter

Connect on Facebook

Connect on LinkedIn

Bob's YouTube Channel
---
Contact us:
Contact us by: Email

Creative Offices: 780-736-0009

Client Toll Free: Canada & USA: 1-888-848-8407